Services
To enable your organization to adapt more quickly to market changes and increase customer satisfaction, I support you as a management consultant and agile coach in digital and agile transformations
with strategies and concepts
with procedures (Road Maps), methods and techniques
in the selection of suitable AI Initiatives for the digitalization of processes
as well as through training and workshops on the following topics:

Change Management,
Agile Methods
Teamwork and
AI Technologies and their Use Cases.
In consulting for your organization, I contribute my experience from my many years of management consulting as a project manager at PwC and KPMG, as well as 15 years of self-employment. I have audited and advised numerous medium-sized and listed companies/ organizations, and in recent years I have worked on assignments related to digitalization and agility.
The focus of my work is always on people with their needs, resources, challenges, and desires. Respectful and appreciative cooperation at eye level is very important to me.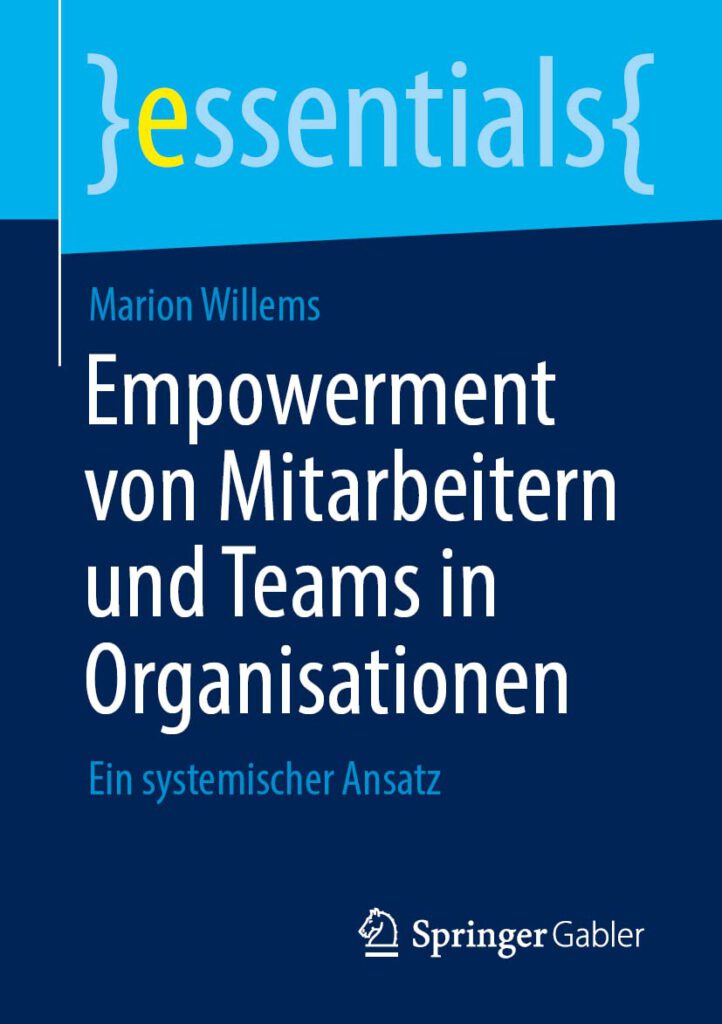 In my latest publication, I show you a structured approach on how you as a leader can lead your staff and teams to the next level of empowerment, self-actualisation and autonomy. You will learn about systemic and agile methods and tools and at the same time strengthen your coaching and leadership skills.
Empowerment
Employees are at the center of change processes, which can only be successfully implemented if employees support them. This can succeed if employees are given more authority and power to act, if they are empowered. If a leader wants to accompany employees on their way to more autonomy, self-influence, meaning, and self-efficacy, he or she can support them in this with
coordinated, useful agile tools and methods
systemic coaching
appropriate adjustments to the corporate culture
as well as appropriate and supportive structures and processes and
trainings
On this path, I accompany not only executives but also HR managers, team leaders, coaches, consultants, and founders, so that they can gain more time for strategically important issues. Read more about empowerment in my current publication.
Digitization
Digitization helps organizations to adapt to fast-moving market changes, improve the customer and employee experience, become more future-proof and thereby gain competitive advantages

Marion Willems
The term digitization refers to the transformation of analog processes into digital processes (e.g. online commerce) using artificial intelligence.
The aim of digitization is to make processes more efficient and more appropriate to the addressee and thus also to increase customer and employee satisfaction (customer/employee experience) and improve business decisions.
For example, products and services can be better tailored to the customer by means of AI data analysis (e.g. machine learning and natural language processing, digital marketing).
Why is digitization a competitive factor for organizations?
Organizations that do not adapt their business model quickly enough to changing market conditions and customer requirements and that do not progress with digitization are jeopardizing their competitiveness and exposing themselves to the risk of missing the boat or being overtaken by competitors and start-ups with more innovative offerings.
It is therefore of utmost importance to see change and digitization as an opportunity and thus transform the company. Ultimately, the question is whether organizations are fast enough and future-proof.
How I work
The digital transformation is based on a variety of factors in a company: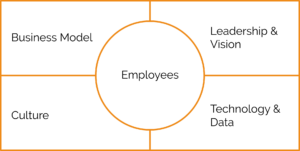 In projects or workshops I support you with the solution of the following questions:
Business model: Is the business model aligned to deliver just the right products and solutions that quickly deliver the value customers want?
Value Proposition, Customer Experience
Resources
Leadership and Vision: Is the executive strategy designed for transformation, innovation, and better and faster business decisions?
Digital Leadership
Vision – Mission – Strategy
Technologies and Data: Are appropriate AI technologies in place to drive value in processes and end products and services? Is data of sufficient quality available?
Machine Learning (ML)
Natural Language Processing (NLP)
Robotic Process Automation (RPA)
Culture: Does corporate culture promote change and innovation?
Values, Mindset
Business Practices
Organizational Structure
Behavior
Employees: Do you have enough suitable employees?
Data Scientists
Cross-functional Teams
Effective Cooperation in Hybrid Organizations
"Digital transformations are largely driven by strategies and not by technologies."
Therefore, I also work in the organization in close in-process cooperation with management and its involved persons and partners.
Agile management practices prove to be particularly suitable for driving transformation from strategy to implementation throughout the company. Therefore, I apply agile methods in order to involve employees in the process, to work efficiently in cross-functional teams, and to obtain timely feedback from stakeholders. In this way, value-adding products and solutions can be created for the customer quickly and flexibly in iterative steps.
Four steps to digital transformation:
Digital transformation is carried out with the participation of employees and involved persons and stakeholders using agile methods and workshops in all phases. Transformations are only successful if the employees/involved persons and those affected by the transformation are also behind the change. During the process, changed requirements are incorporated through continuous improvements.
Step 1: Current Situation
Analysis of the current situation
Where do we need to become more digital?
Where is the potential for improvement?
Step 2: Vision and strategy
What do we want to achieve? (Vision)
What does the strategy mean for the business divisions?
Step 3: Define measures
What AI Initiatives need to be taken?
Adaptation of the business model if necessary
Step 4: Implementation
Implementation of AI initiatives with appropriate use cases
Fine-tuning of the business model if necessary
School transformation

Schools and societies are facing immense change in an increasingly complex, fragile, and digital world, especially since the Corona pandemic. In the mission to educate students to become responsible citizens, the main current challenges are as follows:
Transforming schools towards a learning culture of potential development (cf. UNESCO's 6 pillars of education, ESD, SDG No. 4).
In particular, promoting the development of the four future competencies: creativity & innovation, critical thinking & problem solving, communication and collaboration.
Use of new technologies to prepare students for the future.
However, all this also requires a transformation of the school as an organization. Structures in schools need to be rethought and adapted to drive change so that they can respond nimbly to current challenges. The actors involved in schools must work together with a clear focus on change, networking and often taking on new tasks. Change shaped in this way always requires a change in organizational culture and, ultimately, mindset. This is the responsibility of the school management, which should initiate and drive the change as a servant leader and inspiring coach with a clear vision and accompany it authentically through all phases of the change.
The basic approach in the context of accompanying a school transformation
Analysis of the "why
The first step is to analyze exactly where you are as a school, principal, or teacher, what the bottlenecks are, and why you want or need to change in order to meet the challenges.
Determining the "how"
In this step, a methodical approach for the transformation is worked out together. This can be, for example, experimental work in sprints using agile methods.
Defining the "what"
Here, the details ("initiative") of what should initially be changed as part of a school transformation are defined. These changes can include leadership culture, learning, processes, ways of working, collaboration (with students, teachers and parents, and each other), as well as technological and organizational changes. In most cases, you don't change everything at once; you change in small operational steps.
Implement and scale
As a rule, a pilot project is started, which is then successively rolled out (scaled) to other areas in the school.
In each step, regular retrospectives and feedback rounds are held to review where we are, what we have achieved and where we want to go. Ideas, approaches and solutions are developed jointly in workshops, reflected upon and continuously refined as part of joint learning processes. It is important to me that only solutions are developed that reflect the wishes and needs of the stakeholders involved in the school (head teacher, teachers, students, school supervisors, school authorities, etc.).
My offer
Benefit from my experience from numerous projects in the economy of different organizations and industries. First, I focus on identifying your current challenges before jointly clarifying in a workshop which specific approach fits best in your context. I support you process-accompanying and with workshops to:
Analysis of the Status Quo
Strategy development
Leadership
Culture and mindset shift
Team development
Change Management
Communication and conflict management and prevention as a certified mediator
Agile methods (e.g. introduction of Scrum for Schools)
School Development in the context of a school-wide transformation
Learning innovation methods
Process improvement
Digitalization and Artificial Intelligence